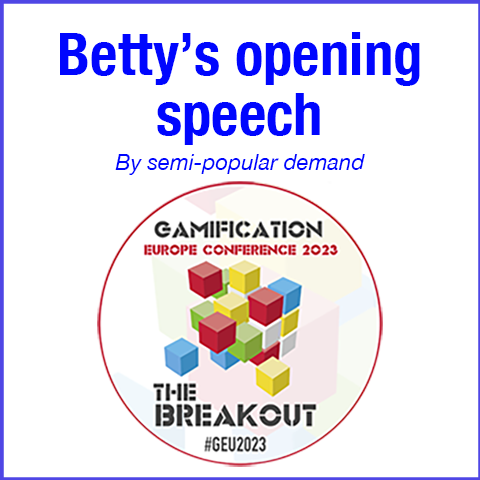 By Betty Adamou, delivered 25th October 2023 in Utrecht, Netherlands, in front of a live studio conference audience.

___________
When people say "I'm interested in books", they're not interested in the physicality of a book. They're not saying "I'm interested in ink printed on dead trees".
What they're saying is; I am interested in stories. 
I'm interested in being taken on a journey.
I'm interested in doing an activity that gives me quality time to myself.
Or, that I can escape to another dimension while on a busy, crowded train.
So when people say that they're interested in games, it's not that they're saying they're interested in plastic controllers, pushing buttons, or the coding, or the dice.
They're saying that they're interested in being part of a world where they get rewarded. They're part of a story that unfolds. They're part of a system that makes sense, that is fair. 
They can be part of a system where you don't need a degree, or a masters or a certain income in order to achieve.
Within a game, you can be anybody, and, if you dare, to be your true self. But most importantly, you can become a master of a universe.
A universe where rules are often clear, and perhaps easier to understand and accept than the rules of the real world, particularly when those rules are, as they have been for some time, constantly changing.
So when people say that they're interested in games, they're interested in doing something that matters. They want to make some kind of contribution.
Now, when we think about what we're tasked to do, to create something that helps people contribute to something that matters, why wouldn't we want to use games?
Many of you at this conference today, like me, didn't go to university to study gamification. Many of you, like me, may have started your careers in this field when the word 'gamification' didn't officially exist; where every time you typed gamification on a screen, you would be asked "do you mean gasification?", with red zigzag underlines underneath.
For the next two days, we're going to hear from speakers using gamification in a number of fields. Indeed, gamification is in every industry on the planet and our speakers are sharing their expertise in gamification to solve a myriad of problems faced around the world; from increasing responses to research with doctors, to making training and education more fun and memorable, to gamifying empowerment, and much more.
And, because so many of us in this room didn't do a 3 year undergraduate degree in Gamification, that means that you all here, the people sitting next to you, have had to wear several hats for quite some time; we're researchers, educators, the person who convinces the person internally to release some funds do you can try that game idea out.
You are, and have been, the designers, the branding leaders, the playtesters, the thinkers, the accountants, and the facilitators. 
You have been the person in the room where no one quite 'gets' what you do, and you have to explain, and explain, and onboard, and convince.
You are the salesperson and the player, the empath and all the time with one eye on the ROI.
I say this because I am taking this opening speech as an opportunity to celebrate all of you here.
The first 10, 15, 20 years of any new field is really, if we look at history, a lot of experimentation and failure.
If we think about what the education system looked like for our parents, if we think about what the fields of psychology or marketing were in their infancy…if we think about transport in the early years…what a difference to know.
So Gamification, as a discipline, is really, a kind of pre-teen.
And we, here in this room; is it too much to say that we're the pioneers? We're treading ground where few have been before us, and laying important foundations for future generations.
We're falling down, getting it wrong, getting up, getting it right, and doing it better every day that we can.
With that said, each talk and workshop, while I'm sure will be delivered with charisma and panache, is, as you can imagine, the result of late nights, early mornings, of intense flow states and inspired energy, and hard work.
So I thank you all for coming to listen, and to be part of this event.
I think we ARE the pioneers, and I'm so humbled, and proud, to be part of this community.

Without further ado, I welcome our first pioneer to the stage…


_____________
With thanks to all who shared how much they loved this speech, and asked for a copy 🙂