**This site is in development. If you can't find what you need because it's not here yet, please get in touch**
 ______
THERE'S NO QUESTION WITHOUT QUEST ™

Award-winning Gamification expert, entrepreneur, speaker, and innovator.
Betty Adamou is the inventor of ResearchGames™ and an in-demand Serious Game Designer,
keynote speaker, and workshop leader.
Her industry acclaimed book Games and Gamification in Market Research (Kogan Page, 2019) is being
translated to Spanish and Portuguese by 2021.
Betty makes Serious Games for Fortune 500 brands, healthcare organisations, and academic institutions.
She's also a columnist for ESOMAR's Research World magazine with her
column How Games are Changing the World which can be accessed here.
_____

I design and develop Serious Games for businesses to help them engage people, and collect data.
I turn questions into quests, games and playful experiences. 
My games have captivated thousands of players worldwide, while collecting valuable insight that drives real-world change.
The data and insight gathered from my games have helped my clients shape new food products, gain more leads, improve their marketing, and even shape fashion lines.
Get in touch to find out about my Serious Game design and development, or about my Knowledge-Sharing services (including workshops and consultation).

The works in this website are the Intellectual Property of Betty Adamou,
and each are protected by Intellectual Property and Trademark laws.
An industry-renowned text book, to be published in two additional languages
Benefit from Betty Adamou's 10+ years of Serious Game design experience with a simple 3-step process. 
Design -> Develop -> Launch
Click to discover Serious Game and
Gamification workshops for Training & Education, Marketing and Market Research. Workshops are suitable for professionals and students alike, and available virtually.
Some of the fantastic organisations I've worked with over the years
As the inventor of ResearchGames™, and as a Serious Game designer specialising in market research, I've been invited to speak at over 500 events since I started Research Through Gaming. I have spoke in more than 55 cities in 24 countries sharing my work in developing Game-based Research Methods (GbRM).
Get in touch. Email is always best:
Betty[.]adamou[@]researchthroughgaming[.]com
BBC Radio Suffolk
Data Gurus Podcast
Interview in Portfolio Newspaper, Colombia
Client feedback
(more testimonials can be found on the reviews page)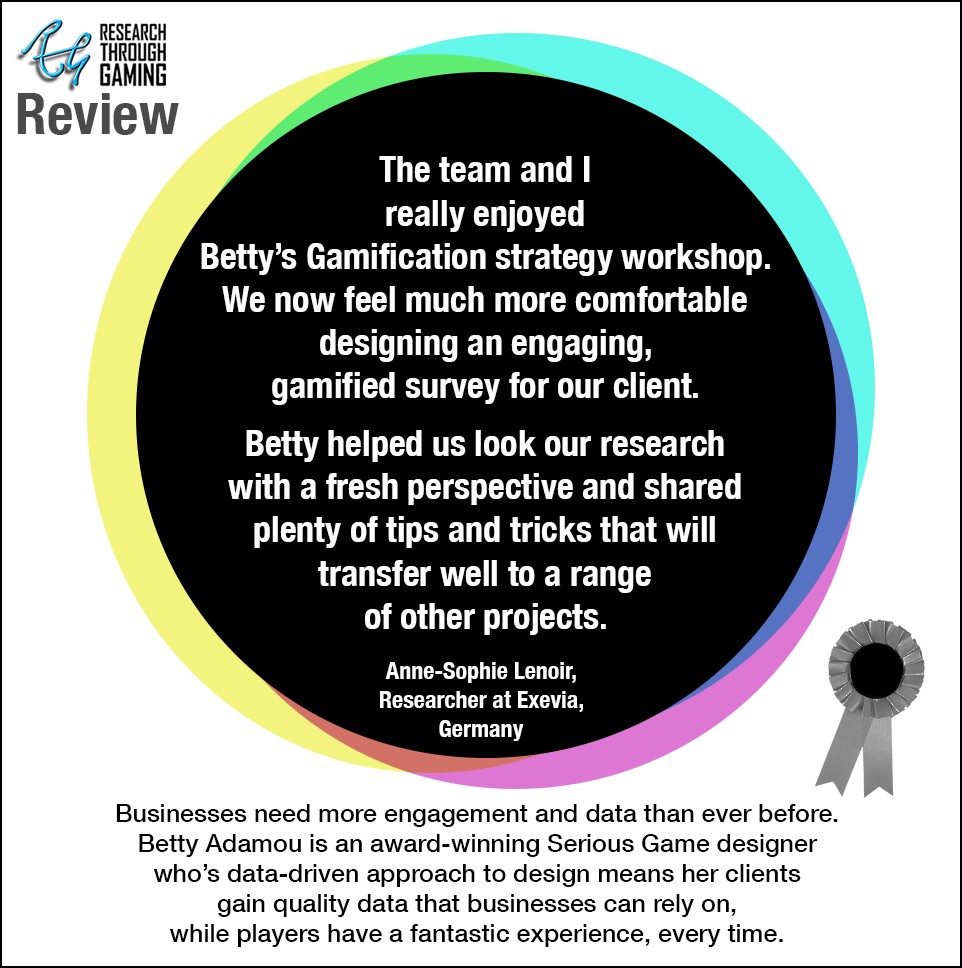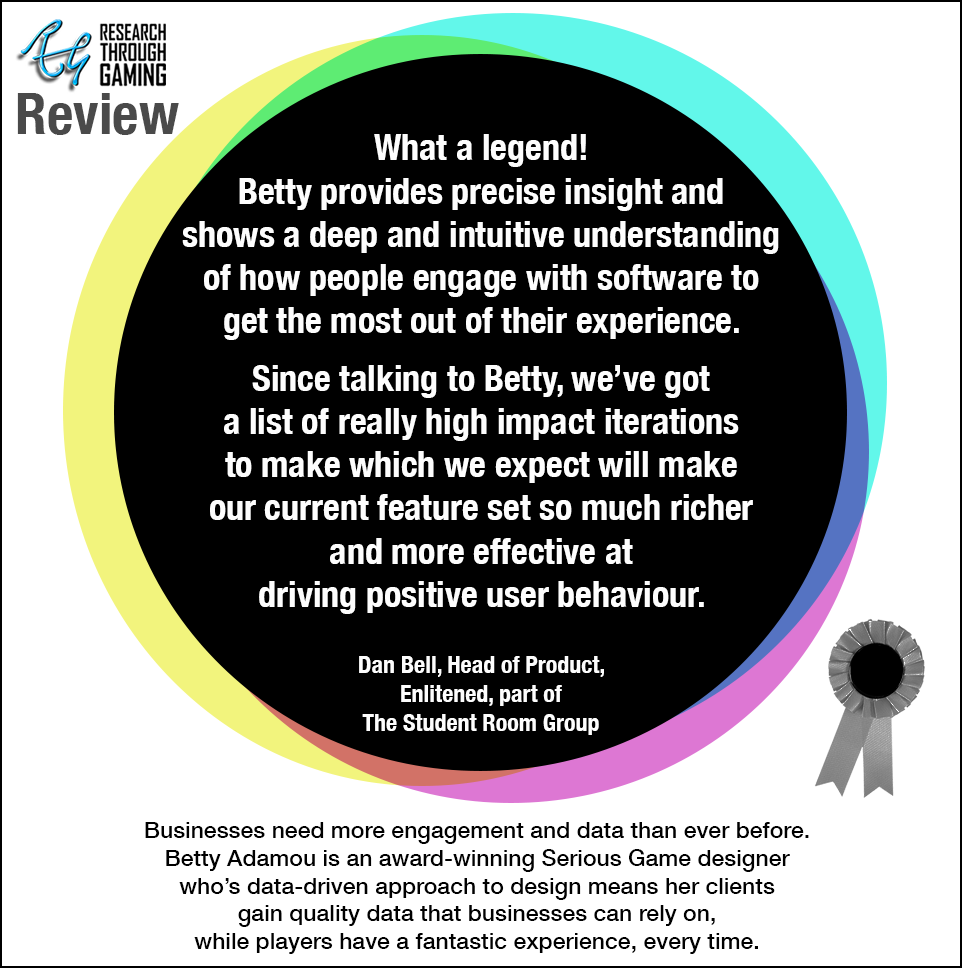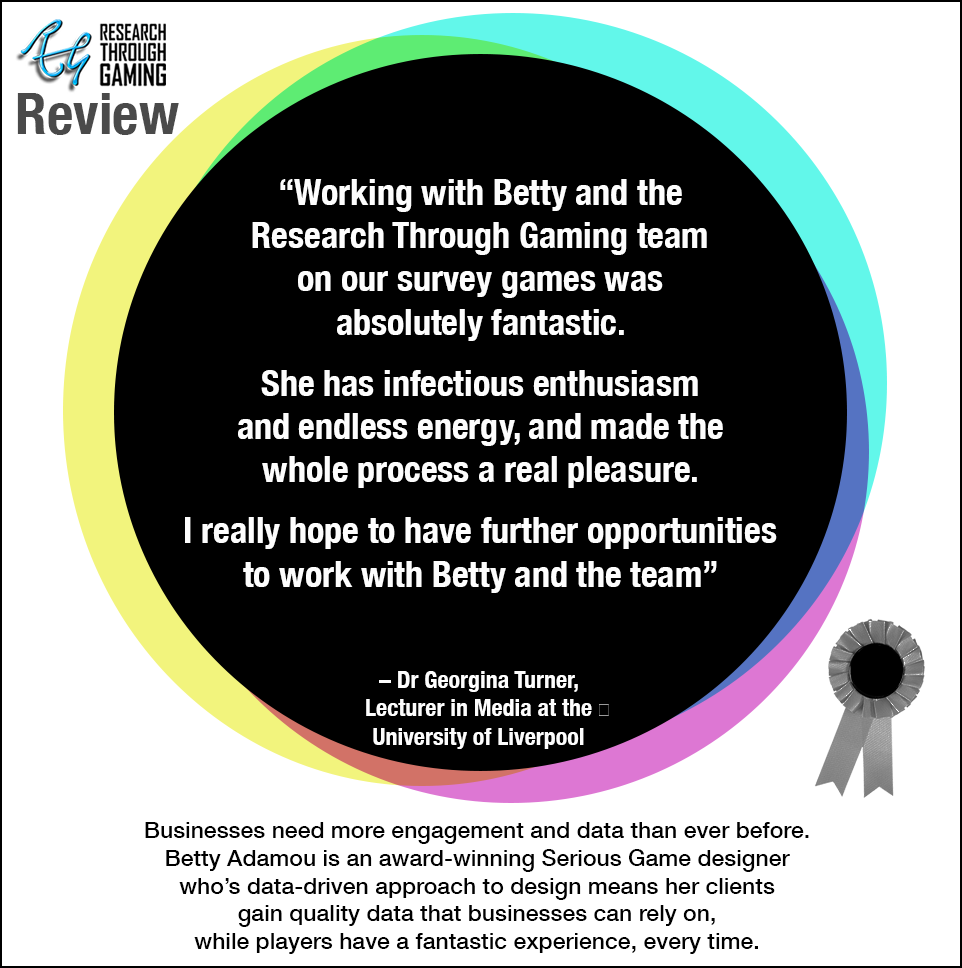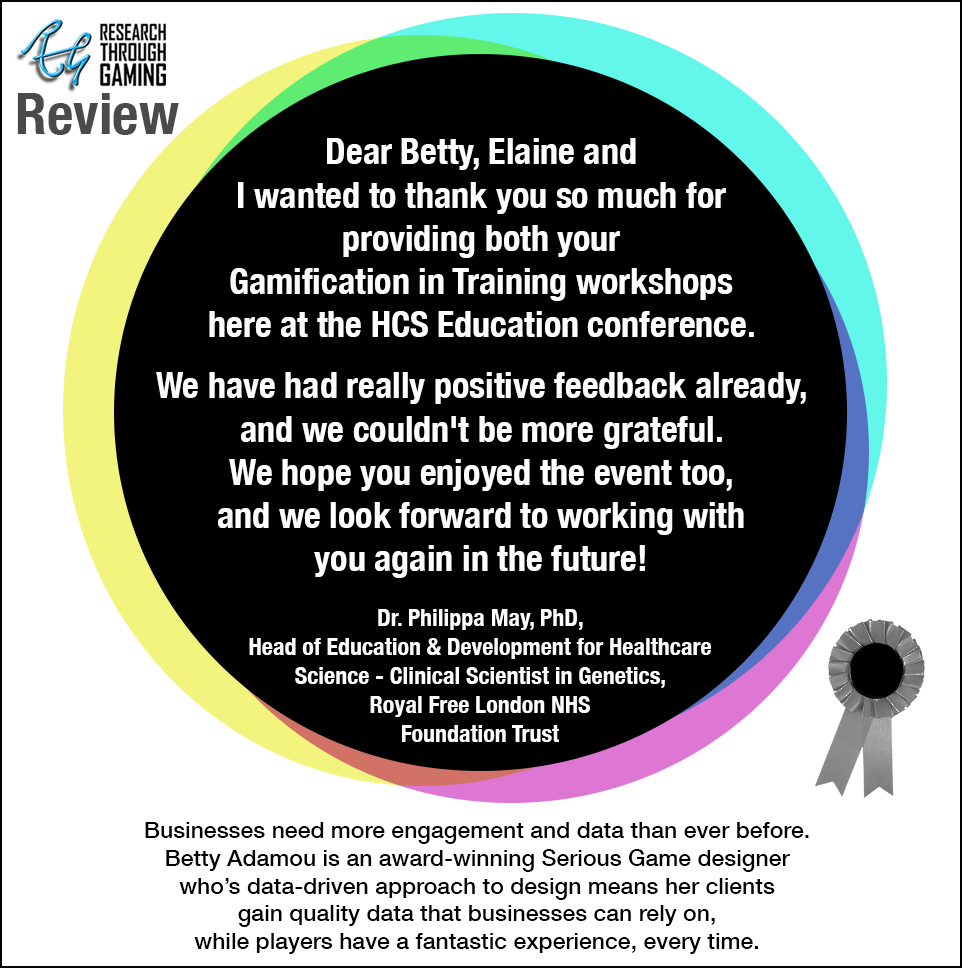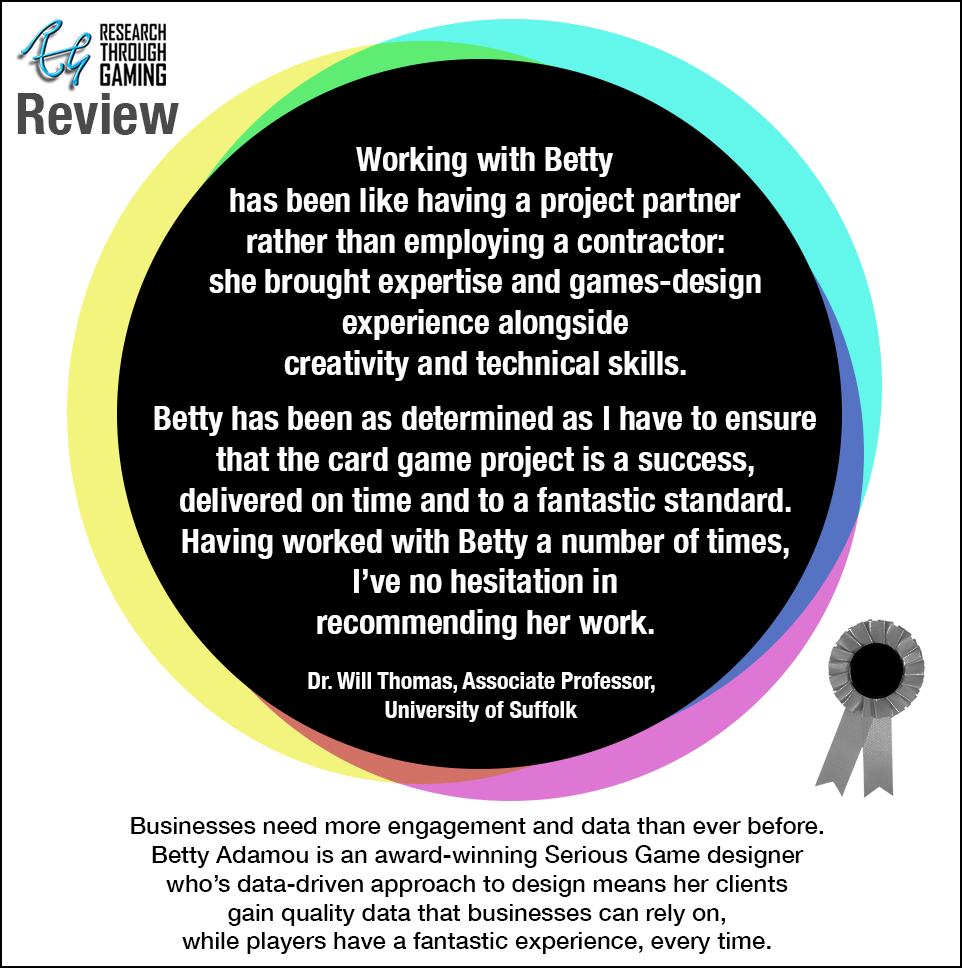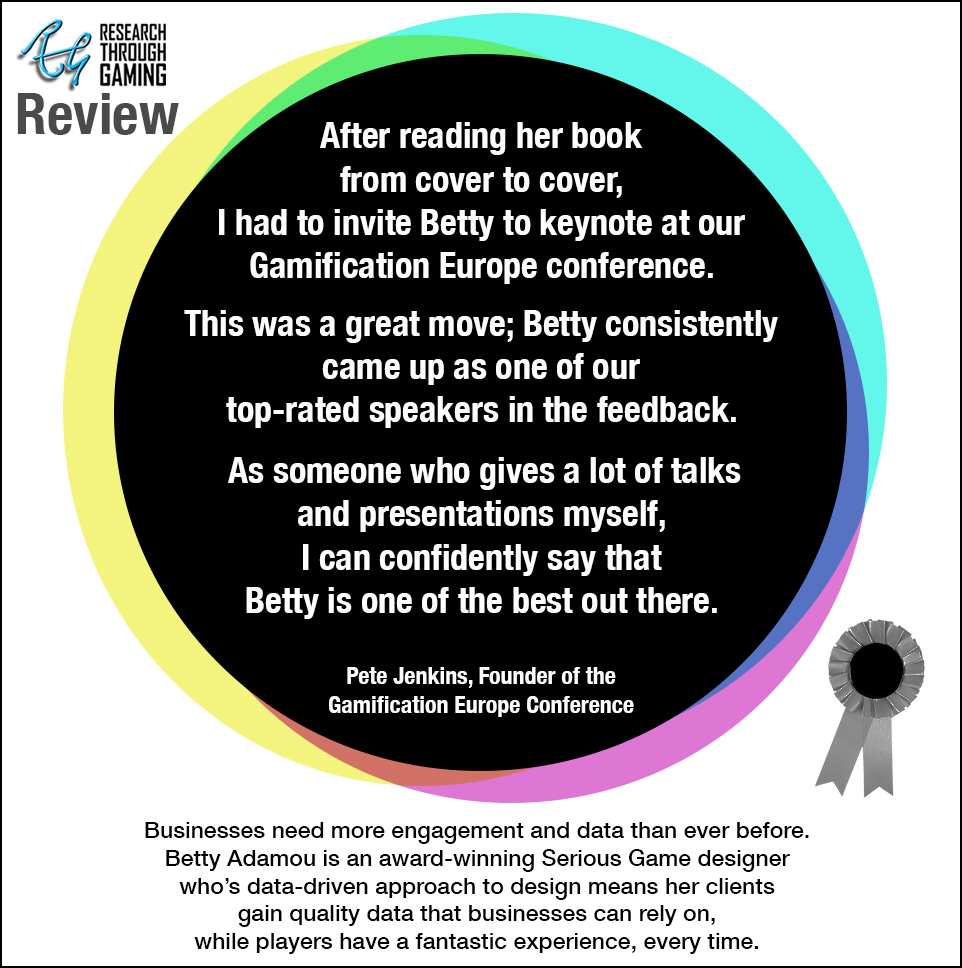 Want Betty to design and create a Serious Game for your business?
Or would you like to learn from Betty Adamou's expertise through workshops, lectures or seminars?
Get in touch for a rate card and a chat